Africa Automotive Distribution Service Ltd. (AADS), Gibraltar, was awarded a $66,000,000 contract for J8 Jeep tactical vehicles. This contract satisfies recurring requirements for Jeep J8 tactical vehicles and related equipment, spares kits, special tools, ancillary equipment including recurring, and related training and services. This equipment will fulfill the requirements for tactical transportation of counter narcotics forces in support of selected partner nations teaming with the U.S. in counter narcotics activities. The location of performance is the U.S. Southern Command and Central Command areas of responsibility. The work is expected to be complete by Sept. 27, 2027. This contract was a sole-source acquisition. Fiscal 2022 and 2023 operation and maintenance funds in the amount of $5,000,000 are being obligated at time of award. Air Combat Command, Acquisition Management and Integration Center, Langley Air Force Base, Virginia, is the contracting activity.
The Jeep J8 is a military vehicle originally based on the Jeep Wrangler JK platform, but currently based on the Jeep Wrangler JL platform. It is also used by government agencies, security groups, peacekeepers, fire departments, underground mining and other industries requiring a heavy duty off-road vehicle. The model was introduced at the Defence Systems & Equipment International (DSEi) trade show on September 13, 2007. The J8 is assembled in Gibraltar by Africa Automotive Distribution Services Limited. AADS has developed and tested the entire range of J8's for deployment to various missions including logistical and front line operations. Recently, the J8 has been submitted as a replacement for the Toyota Tacoma, Toyota Hilux, Mitsubishi Triton, and HMMWV for the US Special Forces.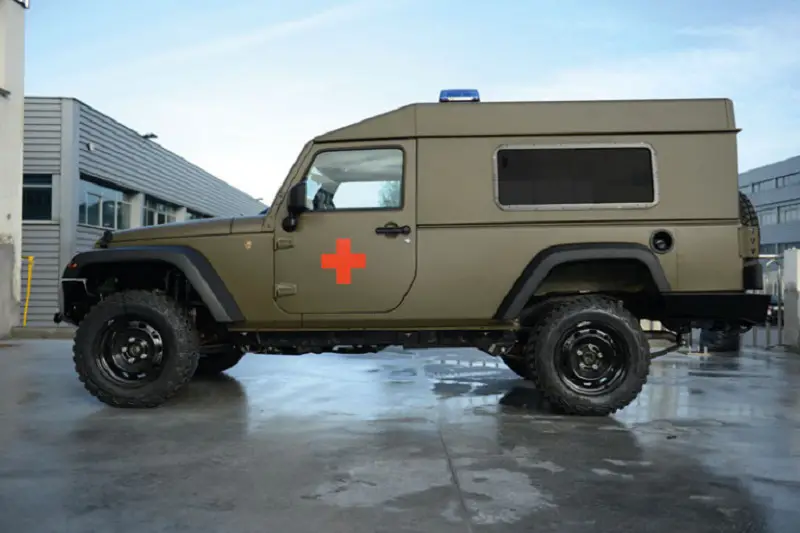 In March 2020, AADS has completed and shipped 335 Jeeps which were converted into personnel and cargo carriers ordered by the U.S. Department of Defense. AADS has been awarded several contracts by the U.S. Department of Defense over the past ten years. During that time AADS has shipped vehicles to multiple countries on behalf of the U.S. government In July 2022, AADS handed over five J8 vehicles; two armoured and three Command vehicles, to the Croatian Army as part of a US funded peacekeeping operation package. In October 2022, AADS have supplied a total of 190 "AADS J8 4×4" vehicles to the Italian Ministry of Defence. These vehicles are used as part of the 'Strade Sicure' operation, for the collaboration that the Italian Army has been carrying out with the police forces since 2008 to safeguard the security of some of the most emblematic areas of the transalpine country. Further units are scheduled to be delivered in 2023.
AADS is part of an International Automotive Group of companies which has traded since 1904. AADS specialises in the design, manufacturing and supply of specialised Jeep vehicles. The company are a fully integrated business with research and development, design, prototyping, testing and production expertise. Through more than a decade AADS has been a contracted supplier of automotive solutions to Governmental Organisations worldwide including the US Department of Defence since 2012 and the U.S. General Services Administration (GSA). AADS has supplied vehicles to more than 18 countries from Peru to Tajikistan, from Tunisia to Guatemala, from Jordan to Mongolia. The company fully understand that lifecycle support is the number one priority for most Governmental purchasers. The company Integrated Logistics Support system reflects an ongoing commitment to their clients from when the first delivery has been made.